The Best Things to do at Devil's Lake State Park in 2023
If you want to reconnect with nature and find the best outdoor recreation in Wisconsin, head to Devil's Lake State Park near Baraboo this year! Devil's Lake State Park, which is just minutes from our Baraboon Bed and Breakfast, is one of the most popular state parks in Wisconsin for a multitude of reasons. However, the most popular pastime is exploring the nearly 30 miles of hiking trails, many of which are easily accessible for all fitness, skill, and experience levels.
Devil's Lake State Park is the most sizable in Wisconsin at 9,217 acres. This also means the list of things to do and see in this scenic year-round recreation destination is long! Pack a picnic and enjoy along the lakefront, stroll the sandy beaches, take up bird watching, break a sweat rock climbing, paddle on the calm waters, hike into the backcountry, and soak up nature at its finest.
After you've had your fill of wilderness, pop back to our charming Baraboo Bed and Breakfast. Our historic Inn was once home to the famed Ringling family; to this day, you'll see remnants of the past. Each guest room is tailored for relaxation with comfortable beds, seating areas, and en suite bathrooms. Our breakfast service is included in your lodging cost and is the absolute best way to start the day with wholesome ingredients and flavorful preparations. Start planning your next getaway and book a room at our Baraboo Bed and Breakfast today!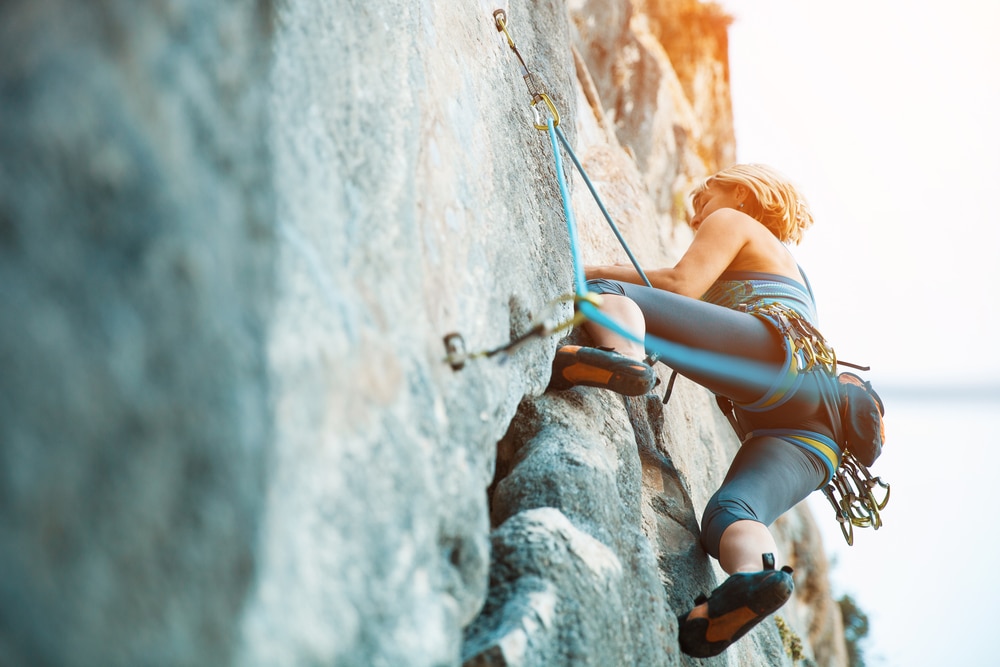 Best Things To Do at Devil's Lake State Park this Year
Devil's Lake State Park is one of Wisconsin's most popular State Parks, with more than 3 million visitors annually. As a guest at our Baraboo Bed and Breakfast, you'll only be a quick 10-minute drive to the park. You'll find lovely beaches, swimming holes, boat rentals, and hiking trails. For the most adventurous, there's some fantastic and daring rock climbing. For those who prefer keeping both feet on the ground, birdwatching is an excellent pastime at this Wisconsin State Park.
Head on a Hike: With 29 miles of trails, including some spectacularly scenic stretches of the National Ice Age Trail, you'll find a variety of challenges and variations of elevation that make for a beautiful and challenging experience. Enjoy the park's steep bluffs and sheer cliffs, but proceed cautiously. Below we'll profile our favorite trails!
Daring Rock climbing: Devil's Lake State Park offers some of the best opportunities for rock climbing and bouldering excursions in the Midwest. The sheer quartzite cliffs and rock formations are excellent representations of the Driftless Region landscape and make for some exhilarating adventures. Here's a great guide to locations and resources.
Hit the Lake: While gas motors are not allowed on Devil's Lake, this only adds to the serene nature of the park! Plenty of paddling opportunities exist, with boat launches at both ends of the lake and on-site rentals. During the summer, they even offer guided kayaking tours!
Fishing on the Lake: The state stocks Devil's Lake with brown trout, walleye, and Northern pike, among other fish. You'll find from-shore fishing at the south-end launch areas. Don't forget your Wisconsin fishing license.
Birdwatching and Wildlife Viewing: Devil's Lake State Park is home to about 38 species of mammals, 115 species of birds, and many species of amphibians and reptiles. Chances are good that you'll spot a few critters on your adventures.
Winter Activities: While Winter is in the rearview mirror for now, there are a ton of winter sports to enjoy during the snowy season. Cross-country skiing, snowshoeing, and sledding are the favorites!
Instagram Worthy Photos: There are so many stunning photo ops at Devil's Lake State Park. With the unusual rock formations, striking vistas, and beautiful blue lake, be sure to update your story along the way.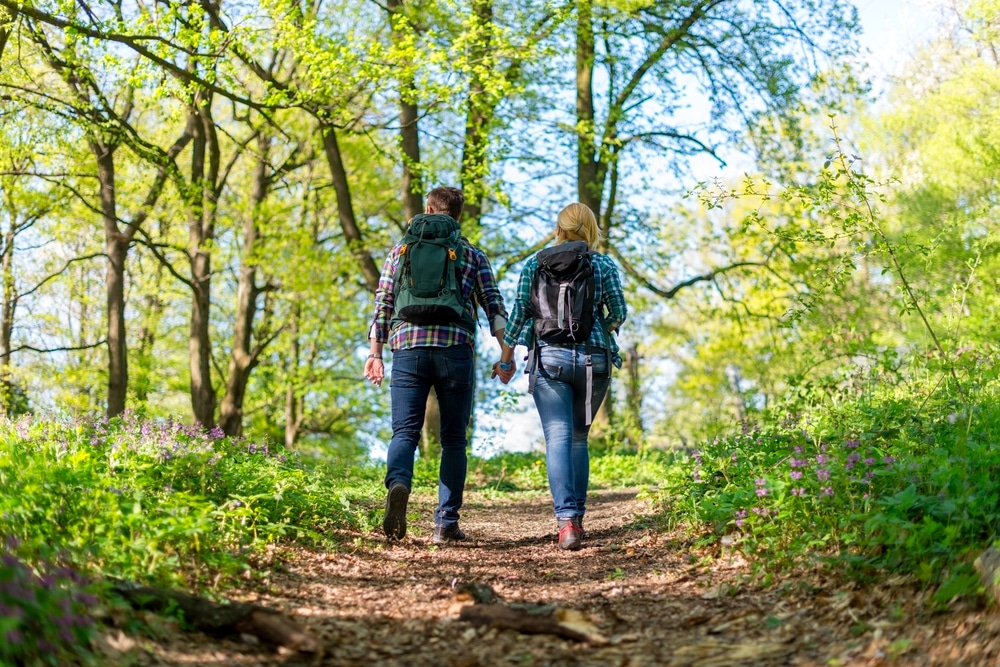 The Best Devil's Lake Hiking Trails
As mentioned above, there are nearly 30 miles of hiking trails at Devil's Lake State Park. Here are the top five routes to consider adding to your itinerary: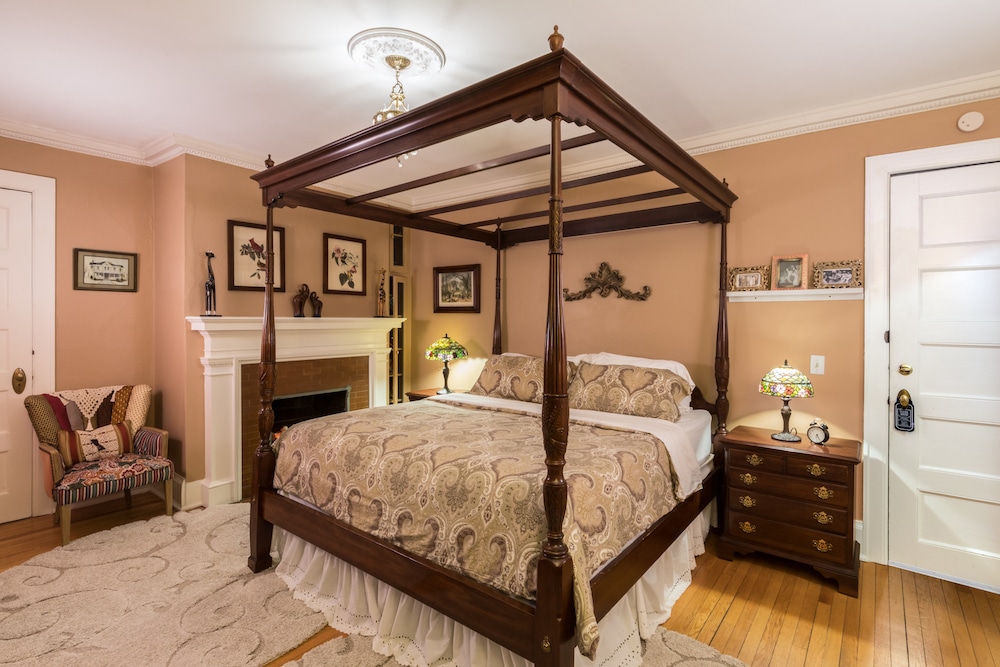 The Best Baraboon Bed and Breakfast near Devil's Lake
After your day out in the Wisconsin sunshine and fresh air at Devil's Lake State Park, we'll be ready to welcome you back to our Baraboo Bed and Breakfast. When you step into our historic Inn, you'll be transported back to the early 1900s. The house has been meticulously maintained to keep that old-world charm but updated to this century with modern touches and comforts. You'll find everything you need to sit back, relax, and rest those tired muscles from hiking and climbing stone steps!
Each guest suite is themed to tell a story of the past and history of the Ringling Family. Every room is dedicated to a famed couple within the family, and you can learn more about their love stories at the Inn. One of the best choices for a romantic getaway is the Charles & Edith Room (pictured above), with an antique king-size canopy bed, big windows with pretty views of our grounds, and a private bath with a marble sink. Guests often remark just how romantic it feels to stay in a place with such a rich history. Start planning your weekend away today and book your room!
---