Kayaking & Canoeing in Mirror Lake State Park This Summer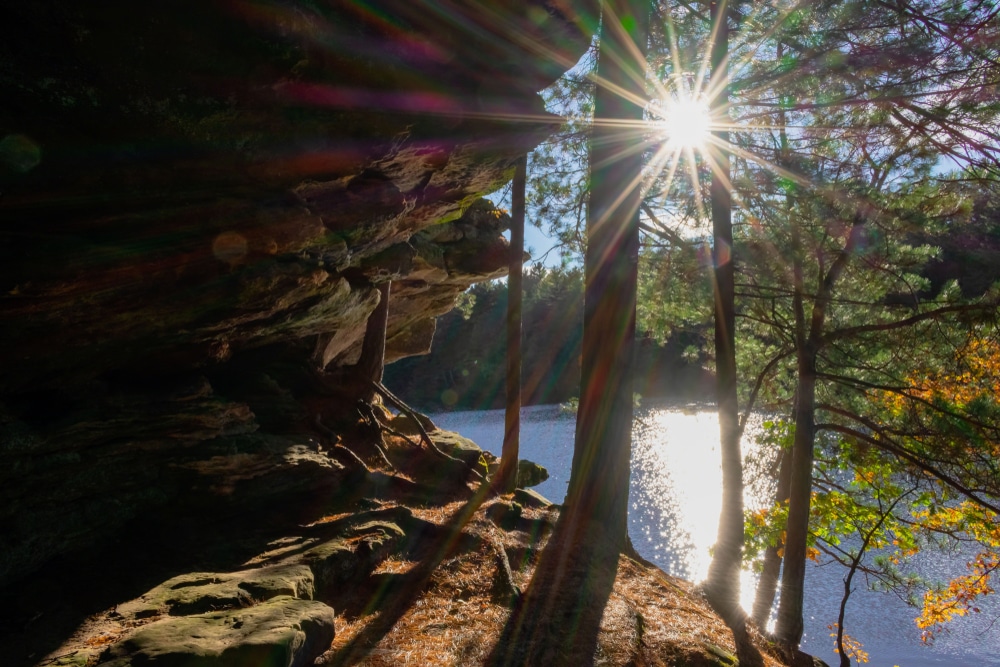 Imagine gliding across smooth, calm water as it casts reflections of the surrounding trees, sandstone cliffs, and vibrant plant life. Mirror Lake State Park is named after its beautiful body of water, known for its mirror-like surface. Steep sandstone sides jut up to fifty feet in some areas, creating a natural wind barrier, resulting in some of the calmest waters you'll every see.
This narrow reservoir covers 137-acres within the 2,179-acre state park in Southern Wisconsin. Part of the Wisconsin Dells region, this area is known for its interesting geology, with unique rock formations peppering Mirror Lake State Park and the surrounding wilderness. On a visit here, you'll want to experience the water first hand, via kayak, canoe, or paddle board.
As a guest at our Wisconsin Bed and Breakfast, you'll be less than a 15 minute scenic drive from the beauty of Mirror Lake State. There are numerous options for recreation here, from kayaking and canoeing to hiking and mountain biking. Join us for breakfast at the Inn before heading out to an adventure at Mirror Lake State Park. Check our availably and book your room today!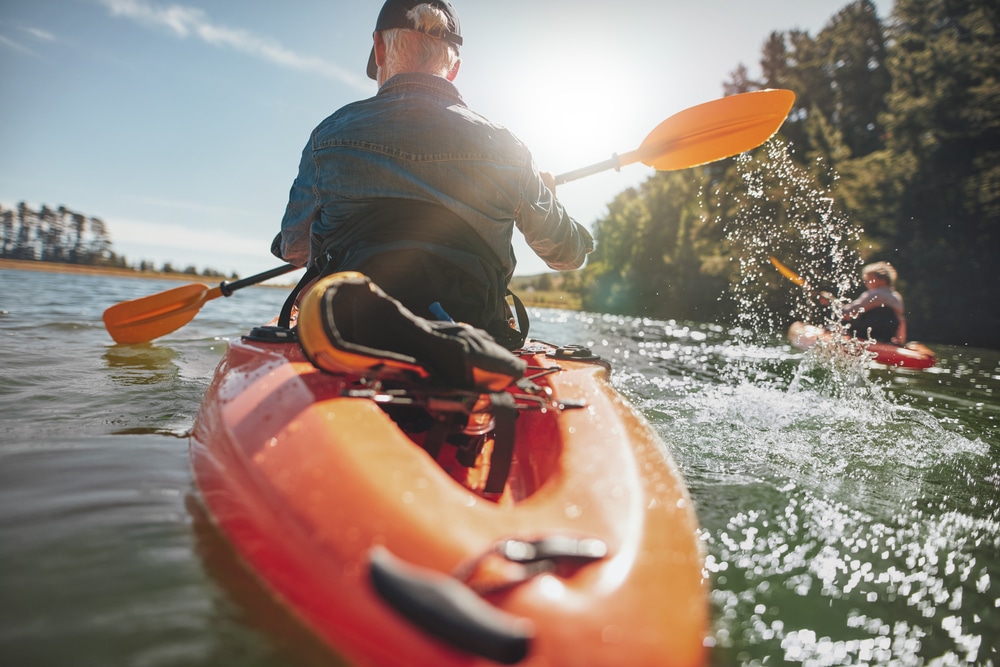 Spend a Day on the Water at Mirror Lake State Park
There's something special about the water at Mirror Lake State Park. It's the perfect place for those who might be interested in learning how to kayak for the first time. Though even experienced paddlers enjoy gliding along the water here. You'll also be surrounded by miles and miles of hiking trails for excursions by foot or bike. There's something for everyone!
Here are 8 ways to fully enjoy a day at Mirror Lake State Park:
Kayaks and Canoes: Spending a day paddling or rowing your own boat is a lovely way to enjoy Mirror Lake State Park. If you need gear, you'll find rentals available located at the Mirror Lake State Park boat launch open daily at 9am. For people-powered boats, they offer canoes, single and double kayaks, and stand-up paddle boards.
Pontoon Boats: You'll also find the option for motorized pontoon boats available by reservation only. Mirror Lake State Park is a no-wake zone, so strict boating laws are in place for the safety of guests and wildlife.
Swimming: Mirror Lake has a nice swimming beach area with a sandy shoreline surrounded by rolling green lawns. On a hot day, taking a dip in the lake is one of life's little luxuries!
Fishing: There's a wide variety of fish in the lake. You'll find panfish, bass, walleye and northern pike. Due to the no-wake implementation, guests find fishing a very calm and rewarding pastime at Mirror Lake State Park.
Hiking Trails: There are just under 20 miles of hiking trails at Mirror Lake State Park. The routes offer a selection for any skill level, some are smooth, flat loops, while others climb into the sandstone rock formations adding layers of difficulty for those who are up for the challenge.
Mountain Biking: You'll find about nine miles of off-road biking options at the park. Trails designated for biking are marked by red flags and consist of roadways covered in wood chips, sand, or grass.
Picnics and Parties: The park has three designated picnic areas with tables and charcoal grills. The shelters offer a nice reprieve from the sun. You'll also find volleyball courts if you're up for a game!
Seth Peterson Cottage: A 1958 Frank Lloyd Wright designed cottage lies within Mirror Lake State Park. The Seth Peterson Cottage is a tiny, historical house of rock and stone. Check here for touring times.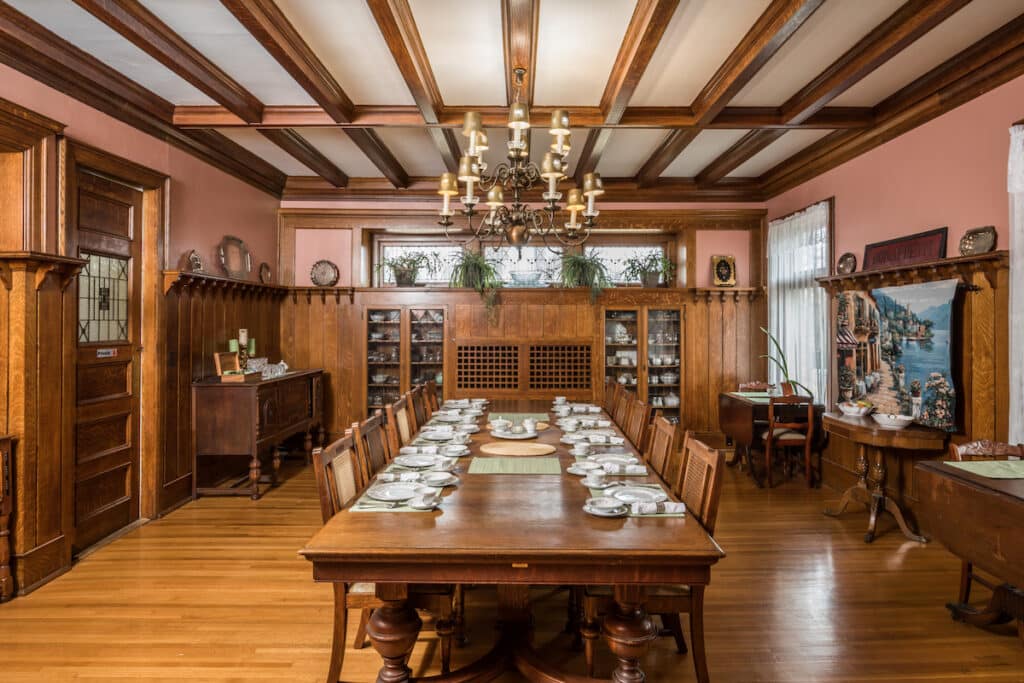 Join Us at the Ringling Family Table for Amazing Breakfasts
As a guest at our Wisconsin Bed and Breakfast, you'll get to dine at the original Ringling family table in our dining room. The classic space surrounds you in original wood wainscoting and timely accompaniments. You'll feel transported to the past while eating our modern and hearty morning meals. The menu changes daily, but always expect sweet and savory options, as well as fresh baked goods.
If you prefer to enjoy your breakfast in the comfort of your own suite or on the front porch, we encourage you to do so. We're happy to accommodate dietary restrictions or requests, just let us know upon check in. At our Wisconsin Bed and Breakfast we love to get to know our guests, and hope that they return year after year. Come join us a the Ringling Family table and book your next stay today!
---