Great Wildflower Hikes in Wisconsin Near Us
Discovering a big field of bright wildflowers or a wooded path lined with trillium are small joys, but memories that stay with you for a long time. Thankfully, there are some really great wildflower hikes in Wisconsin right near our Baraboo Bed and Breakfast. The Southern part of the state is particularly beautiful this time of year, and planning to take the best hikes in Wisconsin for wildflower viewing is a great addition to any vacation or weekend getaway to our neck of the woods.
Our location in Baraboo is ideal for outdoor enthusiasts. Luckily, we're surrounded by State Parks and designated Natural Areas. Devil's Lake State Park and Mirror Lake State Park are two of the most popular spots for hikes in Wisconsin, and they're both within 15 minutes from our Baraboo Bed and Breakfast. Both of these parks offer a diverse landscape within the park itself, from lakefront recreation and plant life to mountainous, rugged rock formations and wooded areas.
The Ringling House Bed and Breakfast is a bit of a hidden gem in Wisconsin. As a guest here, you'll not only be able to explore and enjoy the gorgeous countryside, but take in the lovely architecture and history of our Colonial Revival home that once belonged to the renowned Ringling Family. Each guest room tells a story, the antique appointments are timely, and you'll feel fully immersed in the days of yore. Check our availability and book your next getaway to Baraboo today!
Check Out Theses Hikes in Wisconsin Near Us for Beautiful Blooms
In Sauk County, there are many protected natural areas and state parks, helping to preserve the beauty of this part of the world. This creates an abundance of hikes in Wisconsin for wildflowers and, in general, makes for magnificent nature viewing. There's nothing quite like spending the day on these hikes in Wisconsin near us searching for these seasonal wildflowers.
Here are seven places for hikes in Wisconsin to look for wildflowers:
Devil's Lake State Park: With more than 29 miles of trails, this popular state park is one of the best for hikes in Wisconsin. There are trials for all hiking experience levels. One of the known "showstoppers" of wildflowers are Dutchman's-breeches, which you'll find especially along the East and West Bluff Trails.
Baxter's Hollow: This natural area cuts into a scenic gorge surrounding Otter's Creek which flows over boulders of quartzite. Expect more of a rugged experience, for quiet solitude and nature gazing. The forest floor comes alive with wildflowers in the spring and early summer.
Sauk Prairie Recreation Area: For a look at a particularly flat area of Wisconsin, Sauk Prairie lies between the Baraboo Hills and the Wisconsin River. These prairie lands are being preserved and it's a lovely spot for wildflower viewing.
Palfrey's Glen State Natural Area: This park is the second most visited in the Baraboo area, known for its unique sandstone walls peppered with pebbles and quartzite boulders. Visitors are asked to stay on trail at this area, due to some of the endangered and rare plant life that needs to be protected.
Lower Narrows State Natural Area: As an important geological feature to the Baraboo Hills, this scenic area is home to many spring blooms, such as Dutchman's-breeches, bloodroot, wild geranium, and shooting star.
Mirror Lake State Park: Another very popular outdoor destination for hikes in Wisconsin, this state park offers about 19 miles of maintained trails for exploring. Within this state park, you'll find a Pine Oak Forest area which is a great place to spot some indigenous plant life and wildflowers.
McGilvra Woods: Just 10 minutes from our Baraboo Bed and Breakfast, you'll find one of the richest southern mesic forests in southwestern Wisconsin. This is definitely one of the best hikes in Wisconsin for beautiful wildflower blooms, including orchids, trillium, and woodland phlox.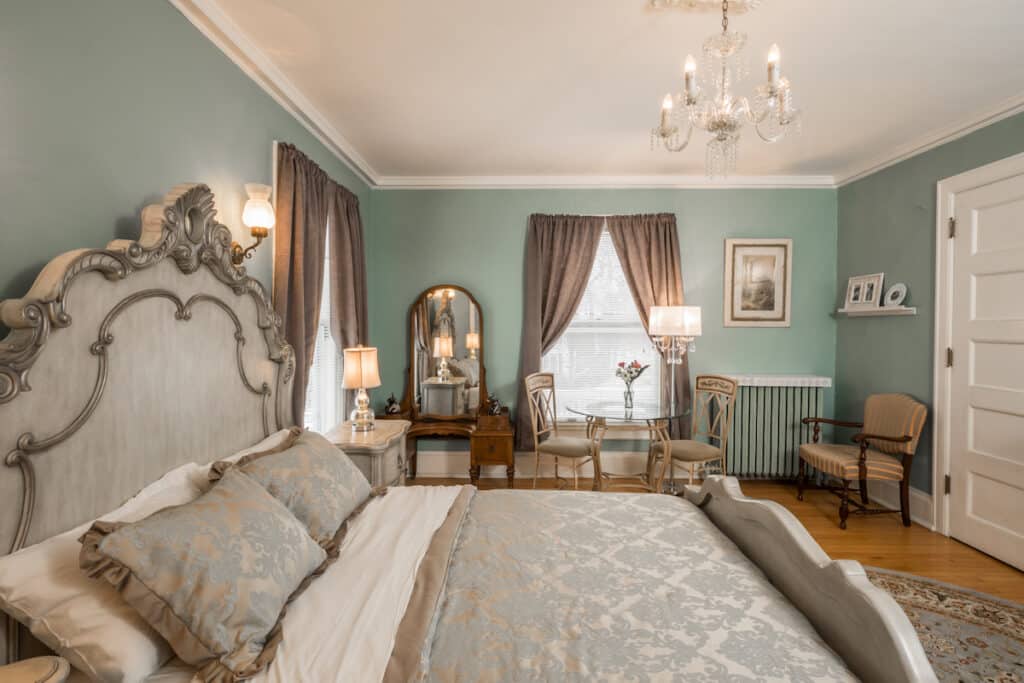 Come Experience the Opulence at our Wisconsin Bed and Breakfast
As you enter into the historic Ringling House Bed and Breakfast through the double doors on the front porch, you'll be taken aback by the pristine condition of the architectural details and antique features. Many guests comment that if feels like stepping back into time, which is a particularly special atmosphere for any getaway for relaxing and taking some time to yourself. We encourage our guests to explore this historic home to their hearts content.
These historic details continue into our six spacious guest room, all equipped with an en suite bath and tasteful appointments. The romantic Fred and Ella room (pictured above) is dedicated to the love of two longtime circus performers. Though the master suite was occupied by Henry and Jean Ringling when they lived here. Every nook and cranny here tells a story and we love to share these tales with our guests. We can't wait to host you; book today!
---