Head to Parfrey's Glen State Natural Area
Spring is the perfect time to find some gorgeous wildflower hikes, and Parfrey's Glen State Natural Area is a beautiful spot in the Wisconsin wilderness for these strolls. Located in the Northeastern end of Devil's Lake State Park, Parfrey's Glen State Natural Area is known for its glen cut in a deep sandstone gorge. These ancient stone walls are made of quartzite, pebbles, and boulders, creating magical walls lining this hike. They actually generate protection for some endangered flora and fauna species of the area.
As a guest at our Baraboo Bed and Breakfast, you'll be a scenic 15-minute drive from Parfrey's Glen State Natural Area. It's a lovely day trip out to stretch your legs, view some stunning scenery, and get into the fresh Wisconsin air. You'll want to join us in the dining room before you set out for hot coffee and a home-cooked meal with seasonal ingredients—included every morning of your stay! We'll be ready to welcome you back in the afternoon as well for a treat before you head out for dinner at one of the nearby Baraboo restaurants. Head on over to our availability calendar and book your next stay today!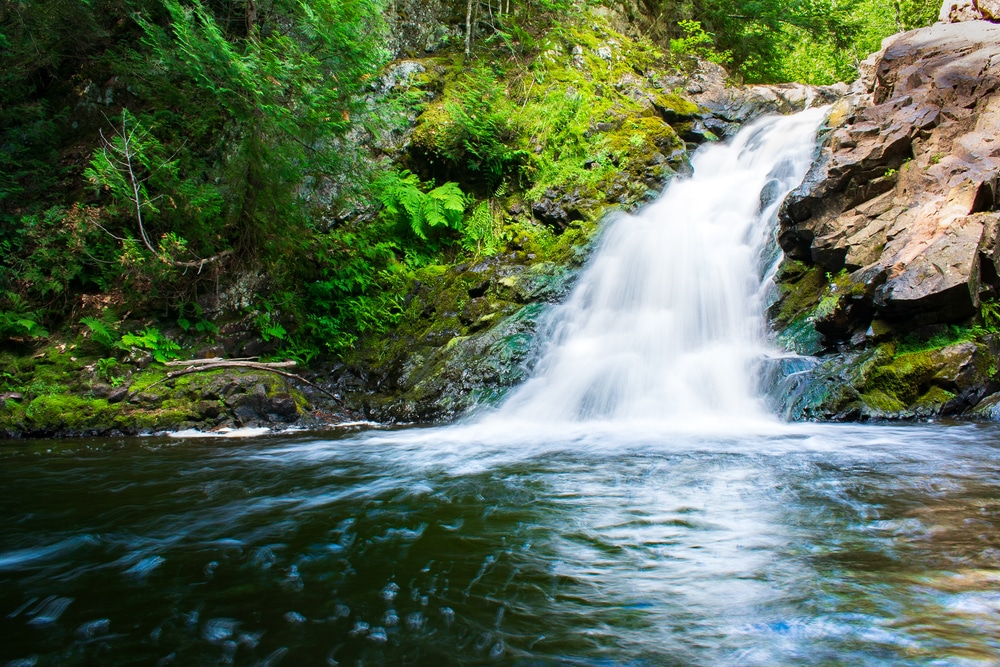 Parfrey's Glen State Natural Area: Waterfalls and Wildflowers
Parfrey's Glen State Natural Area is a part of Devil's Lake State Park, which is an enormous protected nature area in the Baraboo Hills. Devil's Lake is one of the most visited parks in the area, hosting millions of visitors year-round. While we, of course, suggest you plan a hike here, picking smaller destinations within the park, like Parfrey's Glen State Natural Area, can feel less overwhelming for those newcomers to the area.
The main trail is an out and back route clocking in under two miles. Generally, this trail is considered easy to moderate, but paved road turns to gravel and dirt, then eventually into the stream bed. So expect wet feet and uneven terrain. The hike ends with a beautiful waterfall for those who continue past the marked trail end. This is an enjoyable route for those who might be just getting into bouldering, as there are some areas where you can try your hand. You're bound to see some beautiful blooms among the ferns and mossy rocks this time of year.
For more wildflower viewing, head to the main area of Devil's Lake State Park. As you meander your way along one of the many hiking trails here, you'll come across Hepatica Flowers (small purple blooms), violets, trout lilies, marsh marigolds, Dutchman's breeches, and more. Your best bets are the West Bluff and East Bluff Trails for spring bloom spotting.
Historical Lodging and Charming Accommodations at our B&B
There are a ton of perks included with your stay: off-street parking, wi-fi, snacks, beverages, and the use of common indoor and outdoor areas. The best complimentary amenity has to be our home-cooked seasonal breakfast, served at the historic Ringling Family dining table. All of our rooms have ensuite bathrooms, updated electrical, antique appointments, and air conditioning. Guests that choose to stay with us for multiple nights receive a five percent discount. Due to our flexible lodging accommodations, like adjoining rooms in most of our suites, our Inn is ideal for visiting with family or friends.
If you have an affinity for the past, remember, by staying with us, you are helping us maintain this historic property while enjoying this stunning home and making some friends along the way. Not to mention you'll be nearby some of the most beautiful outdoor spaces, including Parfrey's Glen State Natural Area. Book your next stay at the Ringling House Bed and Breakfast today!   
---