Your Guide to Devil's Lake State Park this Spring
Devil's Lake State Park is situated along the Ice Age National Scenic Trail and offers dazzling views from 500-foot quartzite bluffs overlooking a 360-acre lake. The park clocks in at 9,000 acres but is surrounded by more than 27,000 acres of preserved woodland and other natural areas open to public recreation in Sauk County. So it comes as no surprise that millions of visitors flock to the beautiful cliffs and pristine waters at Devil's Lake State Park.
Devil's Lake State Park is the most sizable in Wisconsin, and comparable in size is the range of things you can see and do in this stunningly scenic year-round outdoor destination. You can enjoy lakeshore picnic areas, sandy beaches, bird watching, rock climbing, boating, hiking into backcountry solitude, and much more.
And there's no better way to begin and end a day's adventuring in Devil's Lake State Park than at our Wisconsin Bed and Breakfast in the beautiful nearby town of Baraboo. You'll be rested and fresh to hit the trails in one of our luxuriously appointed guest rooms, and we'll send you off on the right foot with your choice of hearty and delicious breakfasts. Our historic Inn is well known in the area due to the connection of the infamous Ringling circus family. We can't wait to host you in Baraboo; book your room today!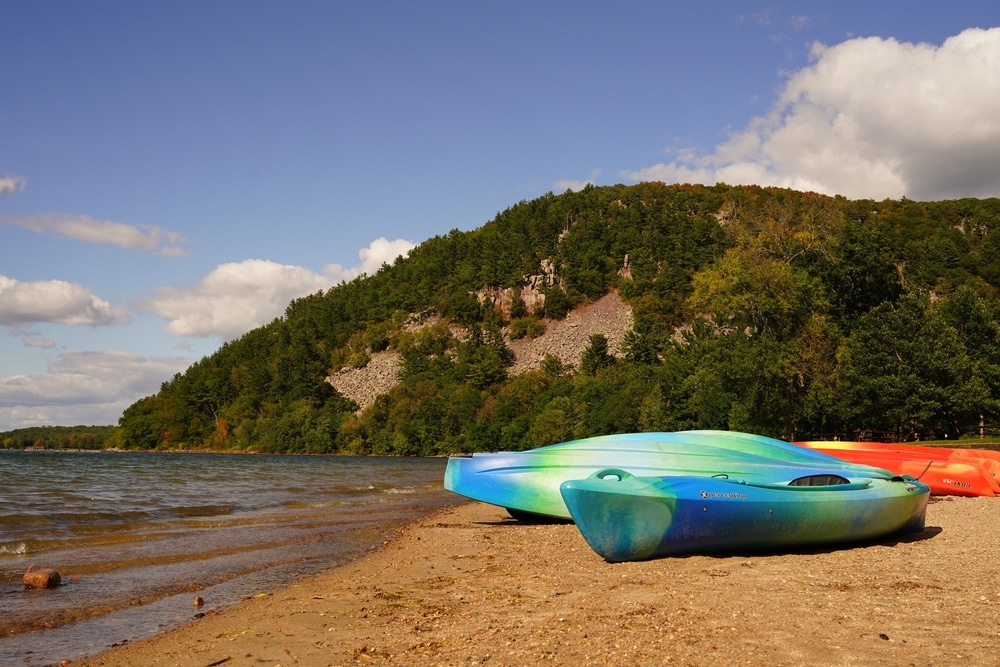 Your Guide to Devil's Lake State Park
Hiking is by far the most popular thing to do at Devil's Lake State Park. With 29 miles of trails, including some incredible and scenic stretches of the National Ice Age Trail, you'll find a variety of challenges and variations of elevation that make for a visually varied but always compelling experience. Enjoy the park's steep bluffs and sheer cliffs, but be extra careful on these higher elevation hikes. Especially recommended are the East Bluff Trail and the Tumbled Rocks Trail. (During hunting seasons, be sure to wear blaze orange when entering permitted hunting zones in the park.)
You'll find some of the best and most challenging rock climbing and bouldering at this Wisconsin State Park. The sheer quartzite cliffs and stacked rock formations are a perfect example of the landscape of the Driftless Region, which was left unflattened by ancient glacial action throughout the Midwest. Here's a guide to locations and resources.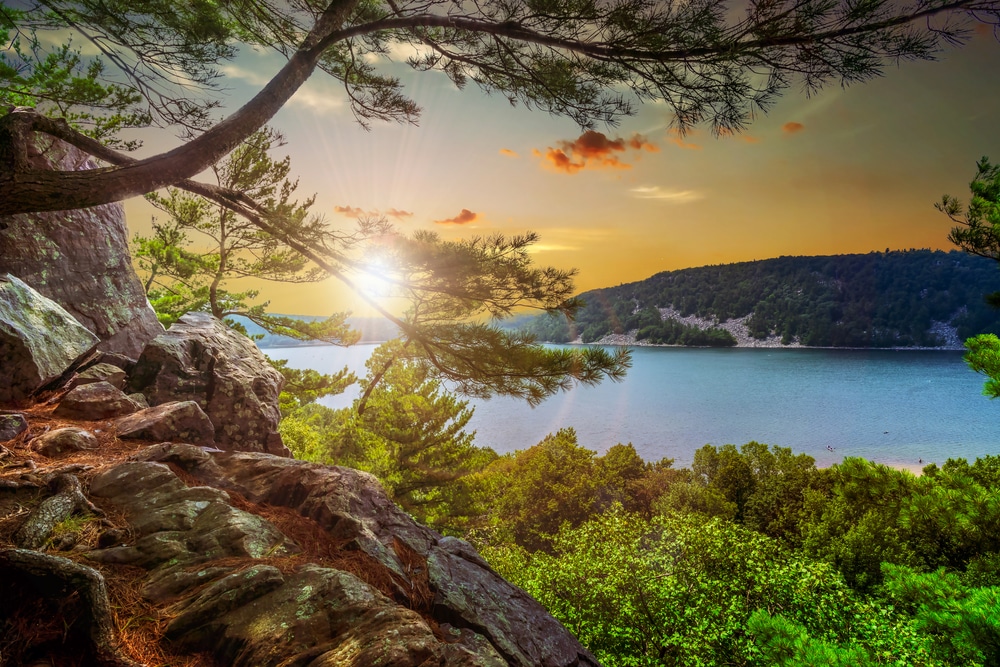 Of course, Devil's Lake is ideal for boating, canoeing and kayaking. While gas motors are not allowed on the lake, there are plenty of paddling opportunities, with boat launches at both ends of the lake and on-site rentals available. Spending a day gliding along the calm, placid waters is a lovely way to enjoy your vacation.
The state stocks Devil's Lake with brown trout, walleye, and Northern pike, among other fish. You can fish from the shore (the south-end launch area is a great spot) or boat. You will need a Wisconsin fishing license, though.
Devil's Lake State Park is home to about 38 species of mammals, 115 species of birds, and many species of amphibians and reptiles (including timber rattlesnakes), and the chances are good that you'll spot something interesting at least through the lens of binoculars or a telephoto camera lens. This is by far one of the best birdwatching spots in Baraboo.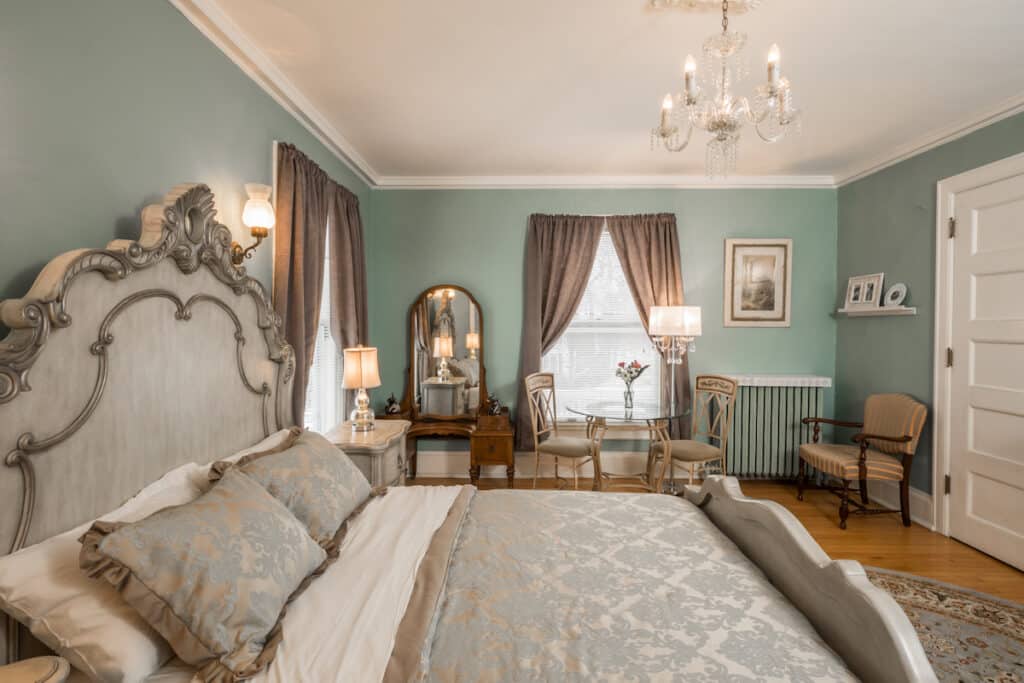 The Best Lodging near Devil's Lake State Park
There's no better place to begin and end each day's adventures than at our Baraboo Bed and Breakfast, with more than 120 five-star reviews on TripAdvisor for this charming Colonial Revival house, which is on the National Register of Historic Places. Here are two of our latest glowing reviews from recent guests:
"We spent two nights at this wonderful B&B. The house is beautiful, with many antiques and pictures of the Ringling family. Our breakfast both mornings were delicious, and we enjoyed talking to Julie. It was a very relaxing trip." –Mary B.
"Amazing hospitality, unique and perfect environment to play out our 1920's Murder Mystery Weekend! All the guests had a great time! Julie and Stuart are excellent hosts!!! Food was great, reception hour included in stay! Want an amazing weekend with friends or family? Call Julie and set up Murder Weekend! You won't regret it!!!" –Rachel R.
We can't wait to host you at our timeless Inn loaded with modern amenities and history. Start planning your next getaway today and book your room! 
---