The Perfect Weekend Getaway in Wisconsin this Spring
Spring is here, and it feels like it's finally the time to start planning your next weekend getaway in Wisconsin. We want to help you with that! Our Wisconsin Bed and Breakfast, the historic Ringling House, is the ultimate spot for your lodging on your weekend away. While at our Inn, you'll feel immersed in the history of the Ringling family and surrounded by beautiful spaces for outdoor adventures.
Our Wisconsin Inn is situated right in the heart of downtown Baraboo, a charming small town with local boutiques, historical buildings, and amazing wineries and breweries. On your stay with us, you'll also be within 10 minutes of Devil's Lake State Park, one of the area's most popular attractions. There are so many things to do in Baraboo for your weekend getaway in Wisconsin, that you'll want to come back again and again.
On a weekend getaway in Wisconsin, instead of choosing a big chain hotel for your home base, it's more exciting to stay at an elegant and unique Inn. This helps to make every minute of your time away special and memorable. Thankfully, when you stay with us, we take care of your morning meal with a hearty selection of sweet and savory options. Start planning your weekend getaway in Wisconsin today and book your room!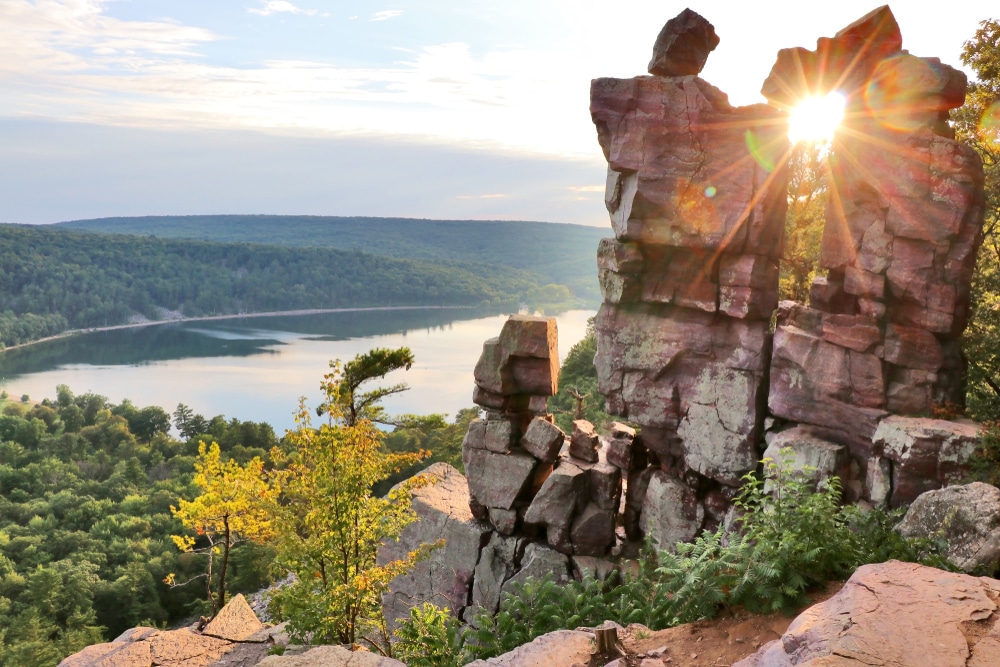 Plan the Best Weekend Getaway in Wisconsin This Spring
On your weekend getaway in Wisconsin, you'll want to make time to soak up nature in our beautiful parks, check out the wineries and breweries, and pick up some souvenirs at the many local boutiques. Get ready to have the best weekend getaway in Wisconsin with us and include these ideas on your itinerary. We can't wait to be your hosts!
 Only 10 minutes from our Inn and situated along the Ice Age National Scenic Trail, Devil's Lake State Park has magnificent views of quartzite bluffs overlooking the huge and picturesque lake. Guests can hike on 30 miles of trails, enjoy a picnic on the lakeshore, take a swim or paddle, and really immerse themselves in the beauty of Wisconsin.
 The centerpiece the 2,200 acre Mirror Lake State Park is Mirror Lake, a popular kayaking and swimming spot. The lake is often as calm as they come, without a ripple in sight, hence its name.
Baraboo Riverwalk is a 3-mile trail along the Baraboo River and winds through the downtown area. It's a perfect place for an afternoon stroll, bike ride, or a picnic at Riverwalk Park.
Just about 15 minutes walk from our Wisconsin Bed and Breakfast, Driftless Glen Distillery is known for its award-winning spirits, extensive lunch and dinner menus, and behind-the-scenes tours of the distilling process.
Don't miss tasting at one of the three local wineries in Baraboo. Right downtown, you'll find more than 20 vintages at Von Klaus Winery. Next up, Balanced Rock Winery is a great spot for sipping wine on its large outdoor patio to live music. Or head a bit out into the hills for spectacular views at Baraboo Bluff Winery.
For wood-fired pizza and local brews head to Tumbled Rock Brewery and Kitchen. They also boast a lively outdoor seating area with yard games and fire pit. Under 10 minutes walk from our Bed and Breakfast, Al. Ringling Brewing has a common interest with keeping the Ringling family's history alive (as we do) and the fresh brewed beers and homemade empanadas are worth a visit for a leisurely afternoon.
While you explore the historical architecture in the downtown district built around the courthouse square, stop into the quaint small town boutiques for shopping, local wares and artwork, home decor and fashion.
For a sweet treat don't miss the selection of house made desserts and candies at Baraboo Candy Company. Bring home a taste of Baraboo with homemade fudge, creative chocolates, and fun souvenirs.
Truly One of a Kind Lodging at Our Wisconsin Bed and Breakfast
On your stay with us, you'll find that each of our six guest rooms in our Baraboo Bed and Breakfast tells a story. The guest suites are named for past residents, all of which were a part of the Ringling dynasty. We've maintained the historical feel of the home with antique appointments, but have updated each room with modern amenities and comforts. Cozy beds, fireplaces, private baths, and one-of-a-kind decor are just a few important details to mention.
Our hearty breakfast is offered every morning of your stay. Depending on your comfort level, you can enjoy your meal of fresh waffles or eggs Benedict at the historic Ringling family dining table, on our lovely open air front porch, or in the comfort of your own guest room. One thing's for sure, after a morning with us, you'll be ready for any adventure that awaits you on your weekend getaway in Wisconsin. Check our Spring availability and book your room today!
---