Tasting at Balanced Rock Winery & More Wisconsin Wineries
An enjoyable activity we enjoy in Baraboo is visiting Balanced Rock Winery for a beautiful day of wine tasting, winemaking tours, and summer events. Set back in the rolling hills of Sauk County, this modern 6,000-square-foot winemaking facility is where the magic happens. This winery features a variety of wines, from unique cold-climate varietals to popular pours like Cabernet and Syrah.
Owners Matt and Kristin Boegner, a husband and wife duo, have always dreamed of owning and operating a winery. While the grapes for Balanced Rock Winery are sourced from regions around the country, including the Columbia Valley in Washington State, the Finger Lakes Region of New York, and other Wisconsin vineyards, they hope to harvest their own fruit eventually. Tastings are offered daily, and they often host fun events, including live music on the lawn.
Before you start filling your itinerary with wine tastings at Balanced Rock Winery and more, you'll want to secure your lodging. Thankfully, our Baraboo Bed and Breakfast is one of the most unique places to stay in Wisconsin! Our historic Inn, with six elegant guest rooms, offers antique decor and architecture that transports you back to the early 1900s, and you'll be taken by the stories of the Ringling Family that once called this space home. Check out our upcoming availability and book your lodging today!
Enjoy Balanced Rock Winery & More Wisconsin Wineries
As a guest at our Baraboo Bed and Breakfast, you'll be a quick five-minute drive to Balanced Rock Winery. The winery is named after an iconic rock formation in Devil's Lake State Park, which has withstood the test of time against natural elements—fitting as the amazing State Park is just a few minutes away!
The big winery has plenty of indoor and outdoor areas for seating—be sure to check the event schedule! The food options at Balanced Rock winery include creative flatbreads (the Caprese is the fan-favorite), yummy house-made dips, a charcuterie board with meats and Wisconsin cheeses, and more. This is an excellent place for a leisurely date or group outing for casual wine tastings and shared nibbles.
One thing we hear most about the modern boutique winery (aside from the fantastic wine) is the breathtaking view! You'll be wowed by the hilltop location, looking out over the rolling fields and forests of the Driftless Region. If you're a golf enthusiast, plan to hit the driving range at Balanced Rock Winery, a unique and fun feature.
Other Wisconsin Wineries to Add to your Itinerary:
As a guest at our Baraboo Bed and Breakfast, feel free to ask your Innkeepers for assistance with tasting reservations or directions to Balanced Rock Winery or the other Wisconsin wineries in the area.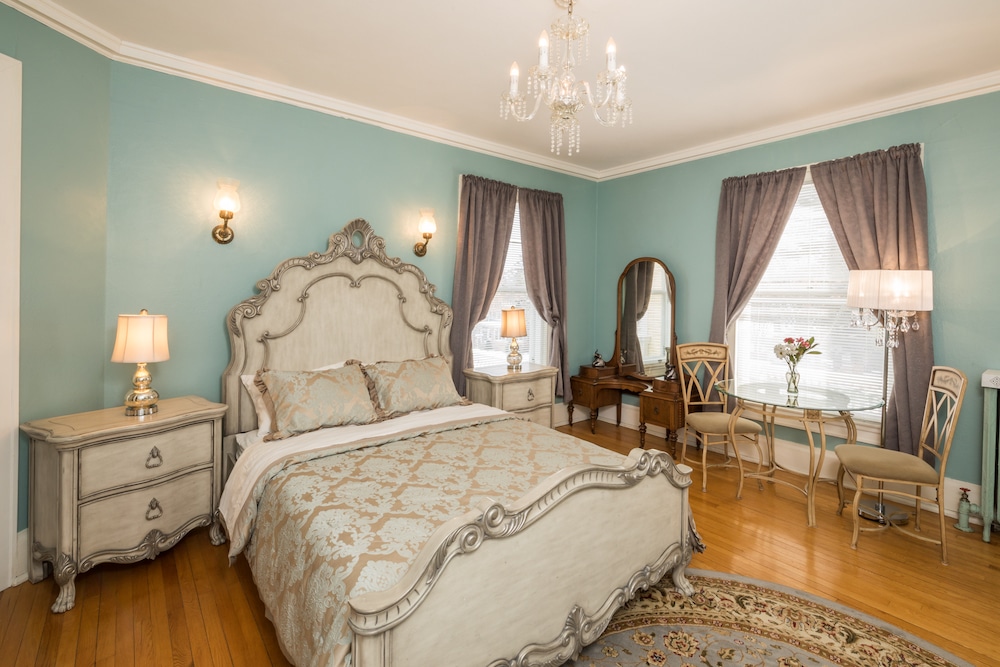 Unique Places to Stay in Wisconsin: Our Baraboo Bed and Breakfast
If you're heading to this area to explore the wine tasting opportunities at Balanced Rock Winery and other wineries in Wisconsin, you'll want a soft place to land at the end of your day. One of the most unique places to stay in Wisconsin is our historic Baraboo Bed and Breakfast. Once home to the famed circus family, a member of the Ringling Brothers, our Inn is now a place of relaxation and serenity.
With only six elegantly-appointed guest rooms, you'll love the quiet and privacy our Barboo Bed and Breakfast provides. As one of the most unique places to stay in Wisconsin, the history and reminders of the past are apparent at every turn. From preserved architectural details, original stained glass windows, and period furnishings—you'll feel immersed in a simpler time while still having access to today's modern necessities.
We'll treat you to a fantastic homemade breakfast with tried-and-true recipes each morning. These crowd-pleasing dishes include sweet and savory options and always come with a fresh juice and hot coffee. It's the best way to start your day before heading out to Devil's Lake State Park or for wine tasting at Balanced Rock Winery and more nearby Wisconsin wineries. We can't wait to host you at our Baraboo Bed and Breakfast; reserve your room today!
---