Wine & Wisconsin Cheese: Where to Find Them Near Baraboo, WI!
In Wisconsin, we proudly wear our badge as "Cheeseheads," so it's no surprise that our state leads the nation in cheese-making. We produce more than 2.5 billion pounds of Wisconsin cheese each year! But that doesn't mean we don't also appreciate the finer things in life, like wine—and we promptly pair each varietal with our favorite cheeses. Thankfully, there are lots of amazing wineries and cheese shops near Baraboo WI for sips and nibbles galore.
As a guest at our Baraboo Bed and Breakfast, you'll be in the ideal location to enjoy the bounty of Wisconsin cheese and wine in our area. There are four awesome Wisconsin wineries all within 15 minutes of our Inn, many of which have some great food options as well. Additionally, there are three Wisconsin cheese shops within 20 minutes of our Inn, offering a large selection for you to try on your visit.
You could make a whole day of exploring the Wisconsin cheese shops and wineries in and near Baraboo. We're happy to offer tips for the best route and places not to miss on your stay, just ask! Head on over to our availability calendar and start planning your next getaway filled with culinary delights in Baraboo WI. Book your room today!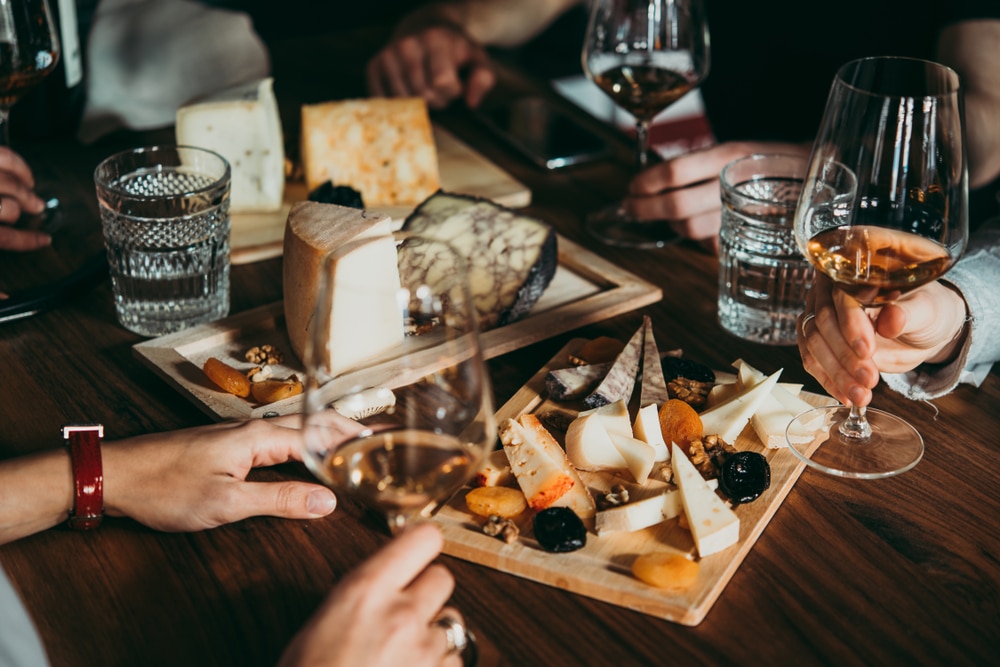 Enjoy the Bounty of Wisconsin Cheeses and Wine Near Baraboo
Before you head out on your culinary and wine-drinking adventure in the Baraboo area, join us for an amazing breakfast spread including our special recipes full of organic and local ingredients. Just below, you'll find seven great spots to include on your trip to Wisconsin.
Check out these 3 Wisconsin Cheese Shops:
Market Square Cheese: Since 1969, this family-owned and operated shop has been serving some of the best Wisconsin cheese and homemade sausages to visitors and locals alike. Stop in for their award-winning cheddars, homemade fudge, ice creams, and souvenirs.
Carr Valley Cheese Co: This Wisconsin cheese brand boasts the most accolades with more than 750 awards for their cow, sheep, and goat's milk cheeses. The best-sellers are the fresh cheese curds, apple smoked cheddar, and bread cheese—a baked cheese with a browned crispy top.
MACS (Macaroni and Cheese Shop): If you're a cheese fan, that this Wisconsin Dells restaurant is the spot for you! Cheesy skillet mac and cheese with toppings or creative melts are the popular items here at this fast, casual lunch joint.
Here are 4 great Wisconsin wineries near Baraboo: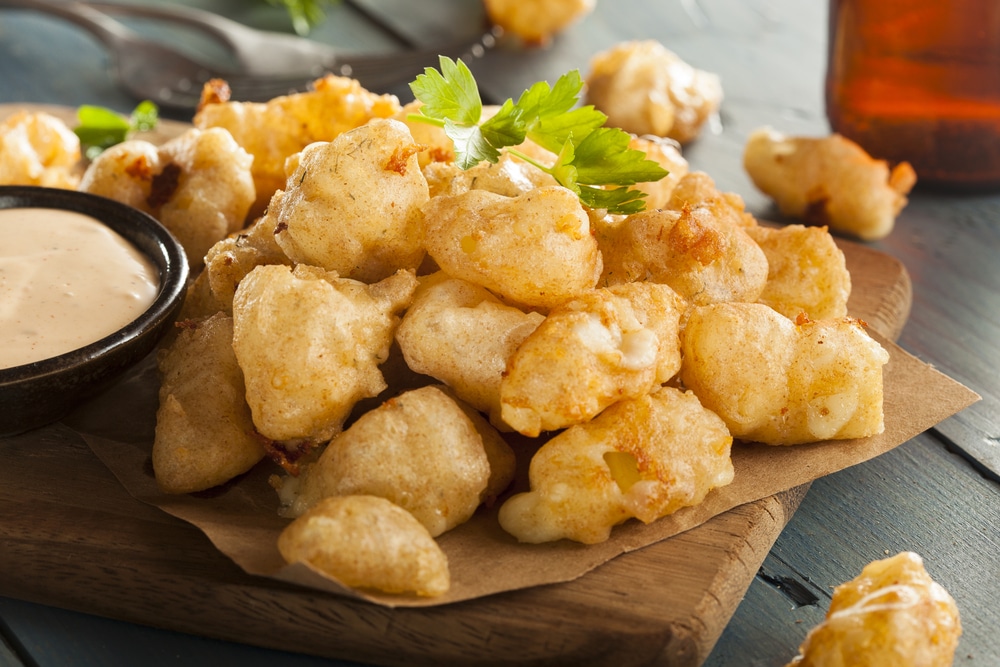 A Regional Specialty: Beer-Battered Wisconsin Cheese Curds
There's a particularly cheesy dish that Wisconsin and other midwestern states are known for: fried cheese curds. These lightly battered (usually with a bit of beer), deep-fried, served with dipping sauce nuggets are a huge favorite in the region. You'll be sure to see this delicious dish on menus around town during your adventure in Baraboo. Don't miss the local favorite Baraboo Burger Co. downtown for their perfectly fried Wisconsin cheese curds!
Affectionally dubbed "squeaky cheese," curds are actually a by-product of the cheese-making process. They've been around for thousands of years but gained popularity in Wisconsin during the mid-1800s when European immigrants brought their cheese-making skills to the region. Modern cooks began experimenting with battering the salty morsels and thanks to them we have these deep-fried delights to enjoy.
The Best Place to Stay for a Culinary Adventure in Wisconsin
If you've ever had even the slightest bit of interest in the history and culture of the circus, then our Baraboo Bed and Breakfast is the ultimate getaway for you. All of our six guest rooms offer a special glimpse into the life of the famed Ringling family. Each suite is dedicated to a couple within the family, creating a romantic air for those looking to rekindle or nourish a special relationship in your lives.
The Charles and Edith room (the couple who built this amazing house all those years ago in 1901) is a particularly beautiful space with a balance of masculine and feminine accompaniments. The grand king canopy bed nestled by a fire is a perfect space to spend time with your true love. A private bath with a marble sink and a cozy seating area by the large windows only add to the luxury of your stay. Join us in Baraboo and book your stay today!
---