Scenic Drives to Enjoy Fall Colors Near Baraboo WI
One of the best ways to enjoy fall colors near Baraboo WI is from the warmth and comfort of your own car on scenic drives through the area. There are miles of winding highways and backroads cutting through the gorgeous forested landscape of Wisconsin. The diverse mix of trees brings some of the most vibrant oranges, golds, and red hues to our area. The maples, oaks, dogwoods, and poplars are in abundance putting on a show for scenic drives through the countryside.
Baraboo WI is a particularly colorful area in autumn and our location to Devil's Lake State Park is a huge boon for scenic drives. Devil's Lake State Park is the most popular park in Wisconsin. The park is 10,000 acres of untouched wilderness with lush, dense forests and unique rock formations surrounding the mile long lake as the centerpiece. There are specific scenic drives that include parts of Devil's Lake State Park, that are great routes for fall foliage.
Our Baraboo Bed and Breakfast is in the ideal location for these stunning scenic drives. We're only ten minutes from Devil's Lake State Park making the Ringling House Bed and Breakfast the best place to start and end your adventure. We're also right near downtown Baraboo for dining, historical tours, and nightlife. Our elegant guests rooms serve as lovely spaces for a special getaway in Wisconsin. Check out fall availability and book your stay today!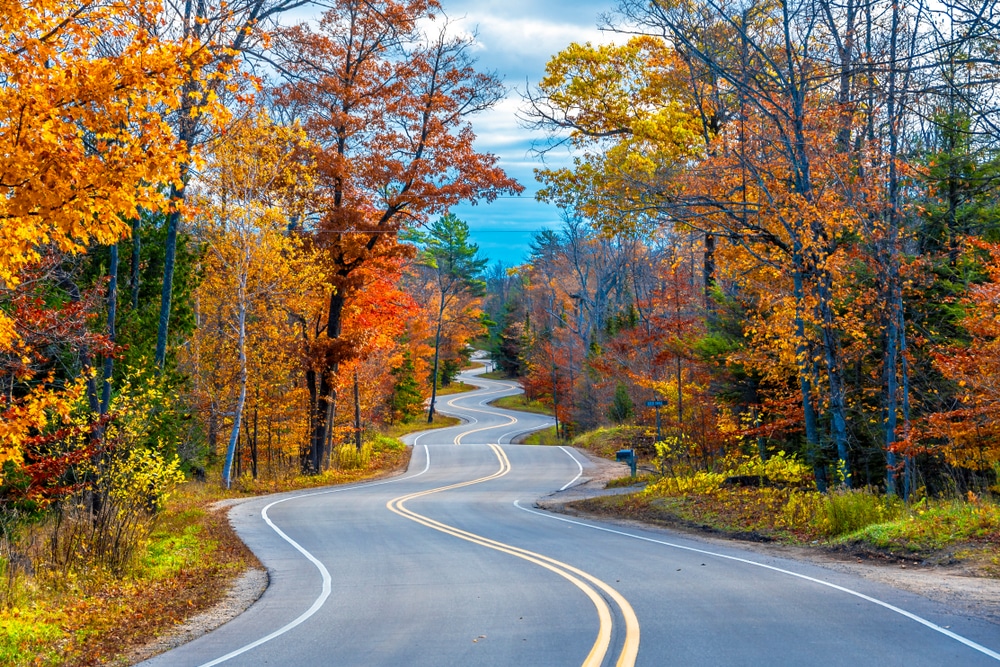 Take this Route for one of the Prettiest Scenic Drives Near Baraboo WI
Every year at this time, the leaf changing predictions begin! For 2021, the outlook for the best dates to start seeing the fall colors come to life is the first week of October. The bright vibrant backdrop will remain through most of autumn before the leaves are swept from the branches, a sign that winter is just around the bend. Taking scenic drives through the wash of brilliant hues is such a nice way to spend a fall afternoon.
One of the best scenic drives near Baraboo for beautiful fall foliage is aptly named the Barboo Hills Scenic Drive by the experts at Devil's Lake State Park. The main route is about 30 miles round trip (with a couple of offshoot options to add on a few miles here and there). This is one of the scenic drives that takes you up along the highest points of the Baraboo Bluffs and you'll gain about 300 feet elevation over the course of the ride.
This particular route starts at the Circus World Museum in Baraboo, which is a matter of minutes from our Wisconsin Bed and Breakfast. Of course this town has an affinity for all things circus, considering it's where the Ringling Brothers called home. And as a guest at our Bed and Breakfast you'll be as close as you can get to the history of this famous family. Check out the stunning circus wagon collection at the museum before setting off on your scenic drive.
Take Highway 113 to head out east of the city which takes you up and over the Baraboo Hills to Devil's Lake State Park. There's a first stop here if you choose to pop out of your car to take in some of the scenic vistas. This area of the park is known at Roznos Meadow and hosts a segment of the Ice Age Trail system. There's a 3.8 mile hike to the open meadow area, a popular destination for wildflowers in the spring, fall foliage in autumn, and snowshoeing in the winter.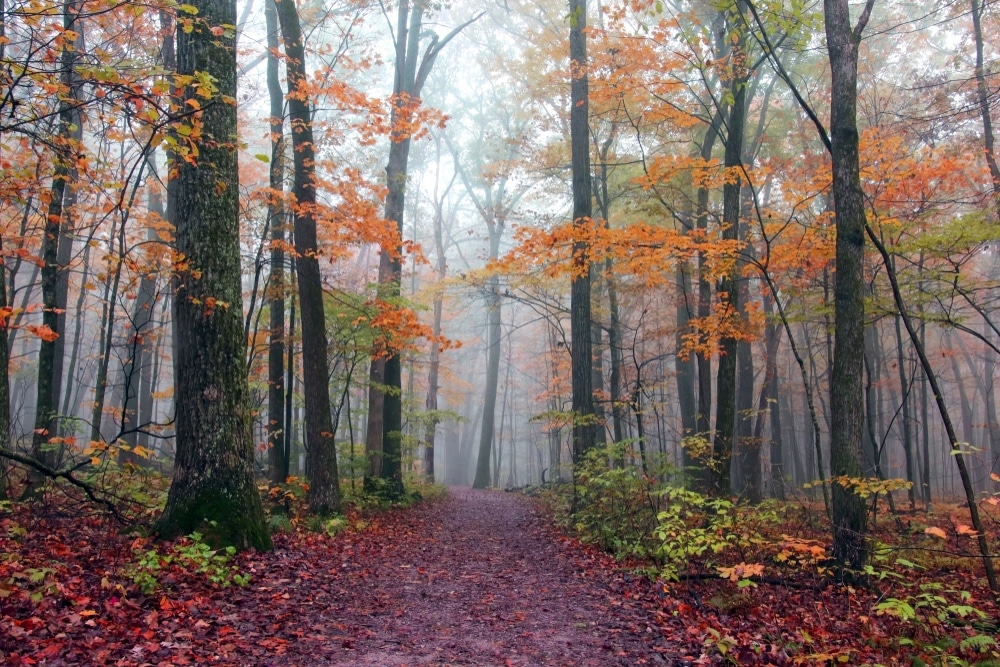 Next you'll head towards Palfrey's Glen, another favorite natural area for fall foliage and bright autumnal colors. This park is very popular for hiking, birdwatching, and the geological stone features. The next best stopping area will be Owen's Park back up in the Baraboo Hills. You'll see lovely views of the river valley and Lake Wisconsin. There are picnic tables here, which are the perfect place to stop for lunch or an afternoon snack.
The rest of the route loops you back to Baraboo through picturesque small towns and forests ablaze in fall colors. For the full set of detailed directions and a downloadable map for one of the best scenic drives, check out Devil's Lake State Park's Visitor's Guide, here.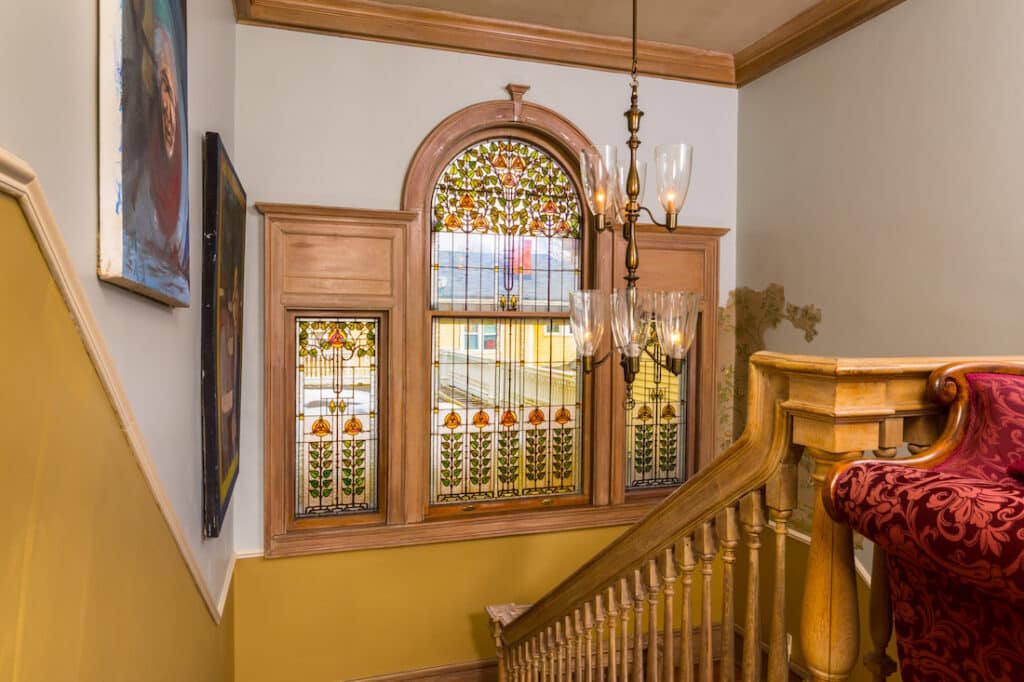 Relax in Luxury in Our Historical Baraboo Bed and Breakfast
One of the first things that will catch your eye as you enter our historical Wisconsin Bed and Breakfast is the attention to maintaining the timely details of the mansion. Inlayed stained glass windows shine with sunlight, intricate woodwork has been restored and polished, and antique furniture and fixtures (many originals) complete the feeling of stepping back into a different century. This feeling continues throughout the Inn and into all six of our beautifully designed guest rooms.
Join us each morning at the original Ringling Family's dining table for a home cooked local and organic meal. We offer sweet and savory options from our ever-changing menu, but expect to find dishes like blueberry pancakes or waffles, baked goods, Benedicts and scrambles. Everything tastes a bit better with a steaming cup of brewed coffee or fresh squeezed OJ. Our dining table is always a welcoming place for delicious meals and lively conversation. Book you next retreat to Baraboo today!
---