A Romantic Getaway at our Wisconsin Bed and Breakfast
For those looking for a quick reset before the holiday madness sets in, you'll want to join us at our Wisconsin Bed and Breakfast in Baraboo for a relaxing and romantic getaway. The historic house was once home to the famed circus Ringling Family, and it still represents the feeling and atmosphere of that time. Step back to the days when life was a little quieter, but you'll still have access to today's modern conveniences—it's the best of both worlds.
Our cozy Wisconsin Bed and Breakfast offers six glamourous guest rooms with historical furniture reproductions and antique furnishings, beautifully designed and comfortable; all the rooms offer private en suite baths, wi-fi, and pleasant seating areas. The rooms each tell the love story of an important couple from the Ringling Family—adding to the romance factor for those here with your special someone. We can't wait to host you in Baraboo; book your next winter getaway today!
Find Romance at our Wisconsin Bed and Breakfast
One of the best things about staying at our Wisconsin Bed and Breakfast is the quiet mornings. You'll wake refreshed in your elegant guest suite. Take a moment to look out on our beautiful property with sweeping lawns—perhaps blanketed with fresh winter snow in the colder months. Enjoy a steaming cup of coffee and join us at the historical and original Ringling Family dining table for an excellent home-cooked breakfast.
The breakfasts at Ringling House are of the highest quality and the best local organic ingredients when organic and local options are available. We pride ourselves on unique recipes and always strive to meet our guest's dietary needs and requests whenever possible. You'll find sweet and savory dishes, as well as juice, fruit or fruit salad, yogurt or yogurt parfait, sweet bread, scones or muffins, or cookies.
You'll be ready to head out for holiday shopping in Baraboo, beer, wine, or local spirits tastings, or exploring the nearby Wisconsin State Parks. Read on to find out the best things to do near our Wisconsin Bed and Breakfast.
Best Things to do in Baraboo This Winter Near our Wisconsin Bed and Breakfast:
For those of you who can pull yourself away from your cozy guest room at our Wisconsin Bed and Breakfast, head on out and check out these activities nearby: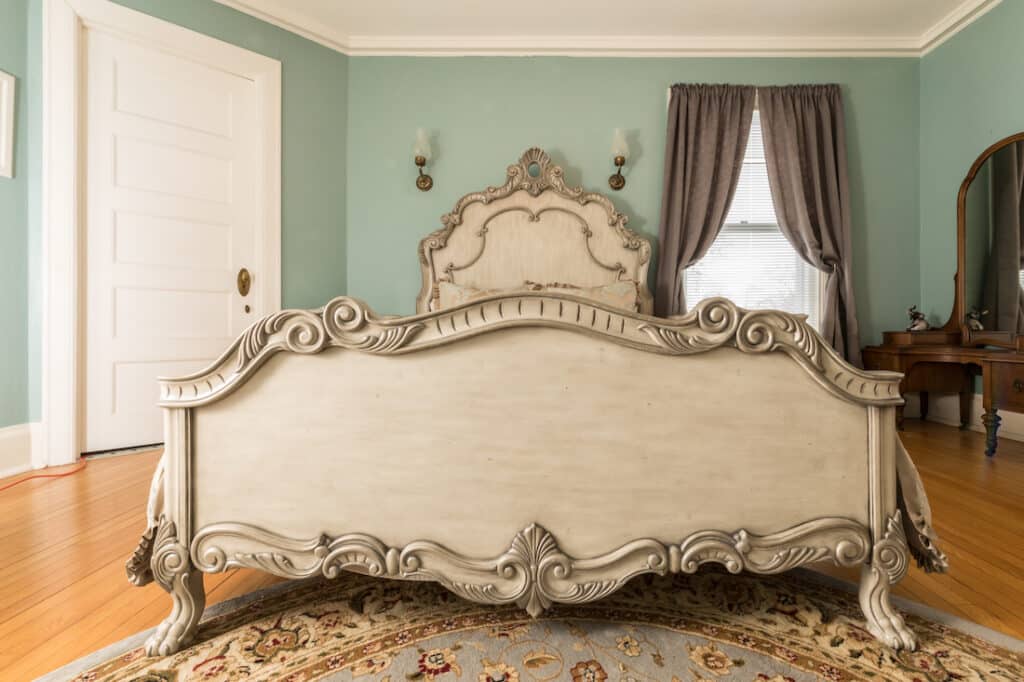 Elegant Accommodations at the Ringling House Bed and Breakfast
The elegant Ella & Fred Room, pictured above,  is dedicated to the romance of circus performers Fred (Derrick) and Ella Bradna. Fred fell in love with the charming equestrian Ella, and, per her father's wishes, he took her name. It also served as Henry and Jean Ringling's primary bedroom when they lived here. There is so much history in each room, and we love to share these stories with our guests.
This room features a queen-sized bed, large windows, a standard electric fireplace,  a private attached bathroom with original tile work and marble sink, a tub with overhead & handheld shower, and a heated bathroom fan. This room has an adjoining door to the Emmett & Eva Room, perfect for those traveling with another couple. Start planning your next romantic winter getaway to our Wisconsin Bed and Breakfast today!
---