Things to do at Devil's Lake State Park This Winter
One of Wisconsin's most beautiful nature areas is the ever-popular Devil's Lake State Park, and just because the temperatures drop and this stunning landscape gets covered in snow doesn't mean the activity slows! There are so many fun things to do at Devil's Lake State Park in the wintertime. So bundle up, grab your snowshoes, and head to the park!
From snowy hikes and snowshoeing to cross-country skiing and ice-fishing, there's no shortage of fun to be hard at Devil's Lake State Park this winter. While the park is open for all of these activities, it is advised that people use caution and wear the proper, weather-appropriate gear, and get the conditions before heading out. When there is snow, the Steinke Basin Loop trail is periodically packed for more accessible travel—it is open to all non-motorized users, including skiers, hikers, and snowshoers.
The only thing better than exploring out in the snow at Devil's Lake is retreating back to our Baraboo Bed and Breakfast after your chilly adventure. The historic Ringling House B&B is such a lovely getaway, only about ten minutes from the park entrance. While the park is known as a popular camping destination, why not secure yourself a charming suite with a cozy bed, electric fireplace, and a beautiful breakfast, homecooked with care each morning? Start planning your next perfect winter getaway, and book your room today!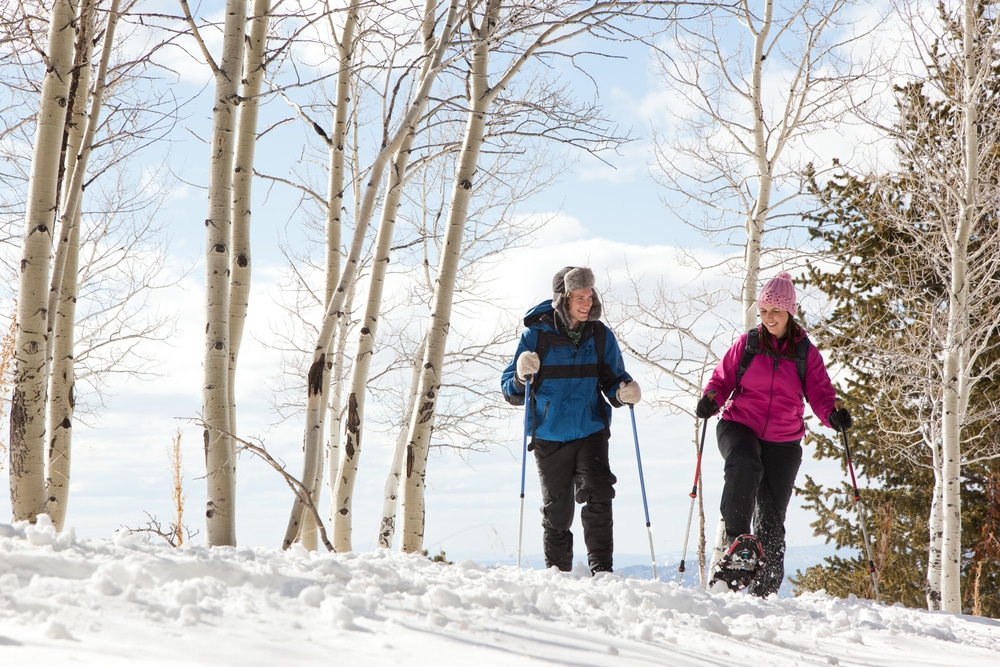 The Best Things to Do at Devil's Lake State Park this Winter
Devil's Lake State Park is situated along the Ice Age National Scenic Trail and offers dazzling views from 500-foot quartzite bluffs overlooking a 360-acre lake. And one could argue that it is even more stunning with a dusting of snow! Its 9,000 acres are part of more than 27,000 acres of preserved parkland and other natural areas open to public recreation in Sauk County.
Here are the top five things to do at Devil's Lake State Park this winter:
Snowshoeing: Snowshoeing is allowed anywhere in the park, though most of the bluff trails are hilly or have steps, and not ideal for snowshoeing. The Nature Center has snowshoes available for free loan on a first-come, first-served basis. Call first to confirm availability and open hours. The Steinke Basin Loop trail is the best bet for those who might be learning or new to snowshoeing.
Cross-Country Skiing: Skiers may travel anywhere in the park, though there are no groomed or tracked cross-country ski trails. However, if you're a fan of this relaxing sport, the neighboring Mirror Lake State Park is known for its 18 miles of groomed trails for skiers.
Ice-Fishing: Ice fishing is popular at Devil's Lake. Talented anglers can catch brown trout, northern pike, and other fish in winter. The lake freezes over for about three months each winter. The park staff does not monitor or measure the thickness of the ice on the lake's surface. Ice thickness can vary daily and from location to location—experience is needed!
Sledding & Snowballs: Head here for some good old-fashioned fun and get in touch with your inner child. There's something a bit romantic about bundling up and experiencing activities that we loved when we were younger.
Visit the Nature Center: While the Devil's Lake State Park's Nature Center has limited hours in the winter season, it's a great place to start if it happens to be open during your adventure. You can check out the three-dimensional, birds-eye model of the park to plan your route, visit the reptile and amphibian terrariums, and view the extensive historic photograph collection.
Warm Up and Relax at our Elegant Baraboo Bed and Breakfast
Staying at our Baraboo Bed and Breakfast is an unforgettable experience. From our historic atmosphere and iconic past to the famed Ringling Circus family to our beautifully appointed guest rooms and delectable breakfast each morning—every element comes together for the perfect winter getaway in Wisconsin.
We offer a long list of the traditional amenities at our Baraboo Bed and Breakfast that you find at other lodging properties, including plush towels, robes, and luxurious toiletries. However, we also offer off-street parking, free Wi-Fi throughout the property, snacks, beverages, and use of common areas. As seasoned Innkeepers, we've hosted so many wonderful people over the years, and we often welcome people time and again for trips, celebrations, and milestones.
Our location in Baraboo, less than ten minutes from Devil's Lake State Park and so much more, is the perfect place to make your home base to head out to explore. Baraboo also has some fantastic wineries, distilleries, restaurants, and the famed Circus World Museum that is not to be missed. We can't wait to host you at our Baraboo Bed and Breakfast. Make a reservation today!
---