One of the Best Places to Stay in Wisconsin
Are you on the hunt for a future getaway at one of the unique places to stay in Wisconsin? Well, you've found it! The Ringling House Bed and Breakfast in Baraboo, WI, has such a rich history and a huge connection to the famed circus family, the Ringling Brothers. Our 1901 historic Inn was built by Charles Ringling, one of the founders of the Ringling Circus, who then sold it to his brother Henry in 1915.
The Georgian-revival-style mansion remained in the Ringling family for decades until we purchased the home in 2015. From the moment you arrive, you'll see that this house has been treated with love and care. While we've introduced modern amenities over the years, the intricate woodwork and original architectural details are meticulously preserved, maintaining the spirit and charms of the past.
As a guest at our Baraboo Bed and Breakfast, you'll be taken back into time from your first step through the double front doors. Welcomed by the warm wood tones and colorful stained glass windows, you'll feel completely at ease to call our space your home away from home for the duration of your vacation. We're one of the best places to stay in Wisconsin, not only due to the beauty of our Inn but also our kind hospitality. We can't wait to host you in Baraboo; book your stay today!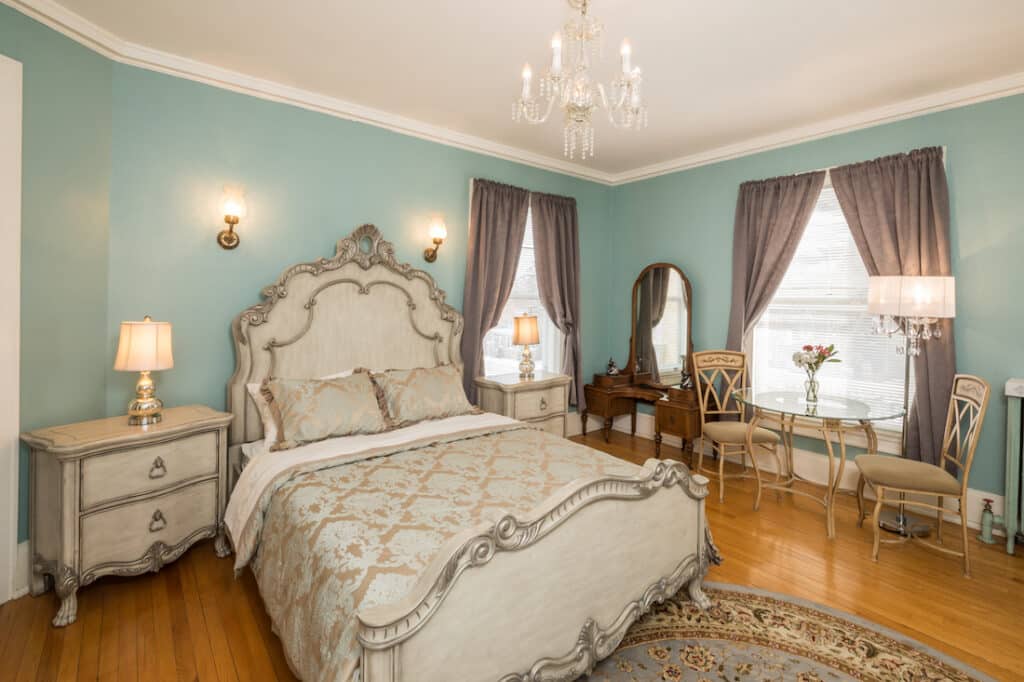 One of the Most Romantic Places to Stay in Wisconsin
One of the first things you'll notice when you check in to your guest suite is the romantic atmosphere of each room. All six rooms have a back story tied to a pair of lovers from within the Ringling family. These stories only add to our Inn being one of the best places to stay in Wisconsin for a memorable intimate getaway. The historical ambiance is second to none!
Here are our five favorite things about the Ringling House B&B, one of the best places to stay in Wisconsin:
The Charles and Edith Room is perhaps our most stately room, which seems fitting since Charles was responsible for building the home, and this space served as his wife Edith's sitting room all those years ago. You'll find a handsome four-poster king-size bed, cozy fireplace, and private bath.
If you're heading to Baraboo for a romantic getaway, the Ella and Fred Room is the best pick! The elegant decor, cool green and grey hues, and antique appointments create a serene ambiance ideal for spending time together. This room is one of the best places to stay in Wisconsin for cozy nights in by the fire.
Each morning we provide our guests with a delicious homemade breakfast served at the original Ringling family dining table. Join us for unique recipes with local and organic ingredients. We offer a sweet or savory option, but both choices provide a little bit of each. Our dining room is a fantastic place to strike up a conversation, and many folks have formed lasting friendships over coffee in the mornings.
Our B&B is one of the best places to stay in Wisconsin due to its central location. We're within walking distance to all of the sights and attractions of downtown Baraboo. A favorite of our guests is the Circus World Museum, a fully-dedicated attraction to preserving the history of the circus. In the summer months, you can even catch live performances. Baraboo is also home to some fantastic restaurants, wineries, and breweries, all nearby our Inn.
You'll find so much lovely outdoor space to enjoy as a guest of our Inn. Sit back and relax with a glass of iced tea on one of our multiple porches. Plan a picnic on the sprawling lawns or under beautiful ancient oak and maple trees.
One of the Best Places to Stay in Wisconsin near Devil's Lake State Park
Our Baraboo Bed and Breakfast is by far one of the best places to stay in Wisconsin if you want to explore the outdoor recreation at Devil's Lake State Park. We're located less than 10 minutes away from the stunning rock formations, lush forests, and pristine waters of the Lake. Thousands of visitors flock to this popular state park all year long for hiking, rock climbing, water recreation, and birdwatching.
The fresh snow transforms Devil's Lake State Park into a winter wonderland during the winter months. Ideal for cross-country skiing, snowshoeing, and sledding. Spring brings new life, and summer is the perfect weather for swimming and boating. Lastly, during the autumn, you'll find some of the most astounding displays of colorful Wisconsin fall foliage. Our guests always tell us how convenient our location is for exploring this spectacular natural area.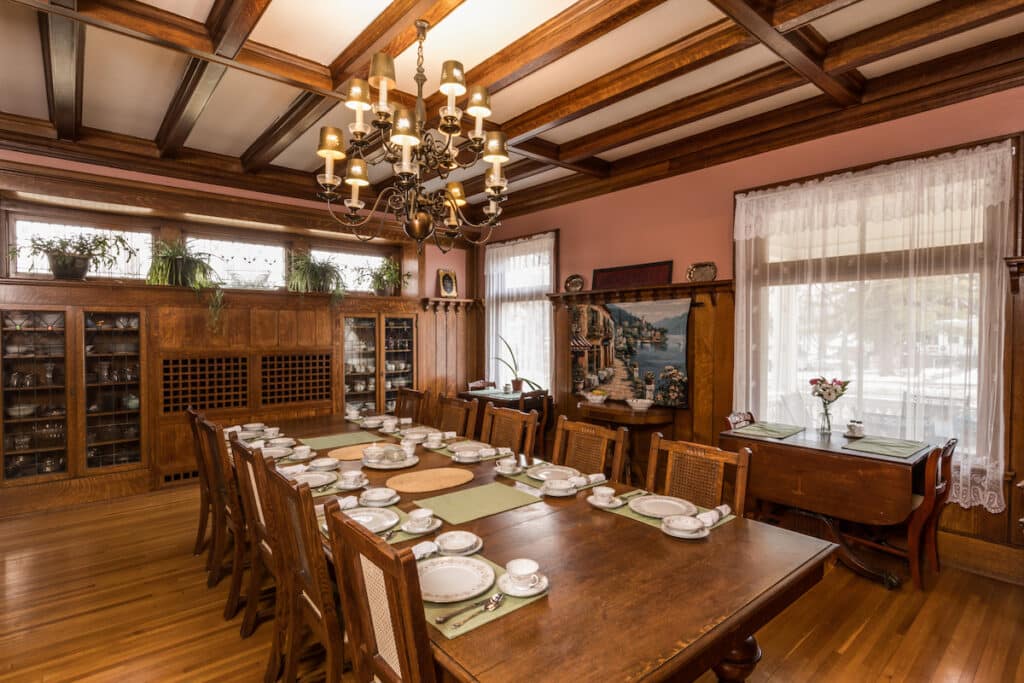 Warm and Welcoming Wisconsin Hospitality
As Innkeepers, we pride ourselves on the level of service we offer each and every guest. We hope that our historical accommodations excite you as much as they do us, and we especially love to share this space with other history buffs and circus enthusiasts. As a guest here, we're more than happy to make personalized recommendations for dining out, activities in the area, and must-see attractions, just ask! Start planning your next getaway to Baraboo and book today!
---