The Ultimate List of Things to do in Baraboo, WI
The Wisconsin Dells is an outdoor lovers' paradise, so it's not a surprise that most of the best things to do in Baraboo, WI, revolve around taking in the stunning scenery, hiking at Devil's Lake State Park, canoeing on the glassy surface of Mirror Lake, and birdwatching at Palfrey's Glen. Though that doesn't mean there isn't an incredible selection of things to do in Baraboo, WI, that happen indoors, often with a delicious spread of beautifully prepared food and crafted drinks.
Why this area has such a big draw for nature enthusiasts has a lot to do with its geology. The Nature Conservancy designated the Baraboo Hills as one of the "Last Great Places" due to the collection of rare rocks, minerals, flora, and fauna. These features were formed millions of years ago in the last ice age when strong currents from the melting glaciers carved and sculpted the gorges, peaks, unique rock formations, and winding rivers. Exploring these interesting geological areas is by far one of the best things to do in Baraboo, WI!
Before you start filling up your itinerary, you'll want to secure your lodging, and our Wisconsin Bed and Breakfast is in the ideal location for outdoor and indoor fun. The majority of our favorite things to do in Baraboo, WI, are within a quick (and scenic) drive from our historic B&B. As a guest, you'll love our comfortable accommodations, antique appointments, bountiful breakfast, and welcoming service. Read on to learn more about all the exciting things to do in Baraboo, and book your room today!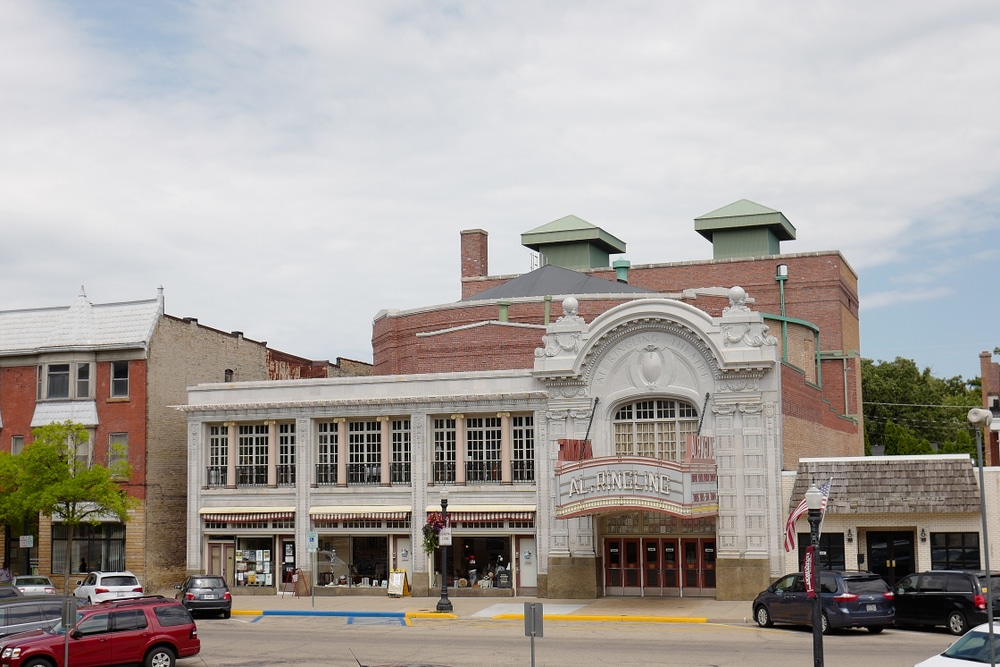 The Best Things to do in Baraboo, WI, on Your 2023 Getaway
There's no better place to work on your list of things to do in Baraboo, WI, than our cozy, centrally located Wisconsin Bed and Breakfast. Start your day's adventures with a delicious homemade breakfast, and when you're ready to wind down your busy day, your warm and welcoming guest room awaits you for a fantastic night of rest. Start planning your next getaway to Wisconsin, and check out the best things to do in Baraboo. WI, this year:
Explore Devil's Lake State Park: For many, Baraboo is synonymous with Devil's Lake State Park, Wisconsin's biggest and most popular state park with awe-inspiring nature. This stunning example of geology created by the last Ice Age offers magnificent views from 500-foot quartzite bluffs with panoramic views of a 360-acre lake. Enjoy lakeshore picnic areas, sandy swimming beaches, bird watching, or ease into the backcountry solitude.
Scenic Vistas at Mirror Lake State Park: Looking for even more natural splendor for your list of things to do in Baraboo? You'll find an abundance of opportunities for biking, hiking, camping, birdwatching, fishing, canoeing, kayaking, and more at this beautiful state park.
Birding at Parfrey's Glen: Less than 15 minutes from our Wisconsin Bed and Breakfast, this state natural area is technically part of Devil's Lake but has a different access point for entry. Head here to explore the deep gorge cut in sandstone with intricate rock formations, stone walls, and a waterfall.
Exhibits and Entertainment at Circus World Museum: Explore the exciting circus exhibits and learn more about the fascinating history of the Ringling Brothers with a massive collection of memorabilia. Don't miss the Big Top with live shows and music at this popular museum.
Catch a show at The Al Ringling Theater: This historic 1915 theater in the heart of Baraboo, WI, is often called "America's prettiest playhouse." Come see it with your own eyes when the 2023 season opens this Spring.
Grab a Pint at a Wisconsin Brewery: It's no secret that we love our beer here in Wisconsin, so you'll definitely want to check out a brewery or two during your visit. We suggest you put Tumbled Rock Brewery and Kitchen and AL. Ringling Brewing on the top of your list.
Head to a local Baraboo Winery: The Wisconsin wine industry is booming! The area's winemakers have honed their craft in cultivating hearty cold-weather varietals that are rich, bold, and extremely drinkable. Head to Baraboo Bluff Winery, Balanced Rock Winery, and Von Klaus Winery—one of the best things to do in Baraboo!
Driftless Glen Distillery for a Cocktail: If you're in the mood for a more potent adult beverage, visiting this local distillery will do just the trick. Stop here for a tasting, tour, and elegant meal at their on-site restaurant.
Dining out at the Best Restaurants in Baraboo: Speaking of eating out, it's best to bring your appetite when you come to Baraboo. After a long day of hiking or rock climbing, you'll find a great selection of places to replenish your calories. We enjoy Baraboo Burger Company, the Kitchen at Tumbled Rock, and Driftless Glen.
Shopping and Antiquing: The charming downtown area of Baraboo, WI, is perfect for an afternoon stroll checking out the local boutiques and specialty shops. Be sure to pop into the antique shops; you never know what treasures you might find.
Stay at one of the Best Wisconsin Bed and Breakfasts in Baraboo
Our historic Wisconsin Bed and Breakfast is just the place to call your home away from home on your next visit to our charming small town of Baraboo, WI. Not only will you feel fully welcomed with open arms, but you'll be in the ideal location to explore all of the best things to do in Baraboo, WI, including the breathtaking Devil's Lake State Park (only ten minutes from our Inn.) That means hiking, biking, and kayaking are just a stone's throw when you stay with us.
Each of our six elegant guest rooms tells a story of a famed couple within the Ringling Family, creating a unique atmosphere for those looking to spark a little romance and reconnect. Every room offers a wonderfully soft and supportive mattress dressed in fine linens and duvets. En suite bathrooms have everything you need to feel pampered and ready to spend the day exploring our beautiful area in the Wisconsin Dells.
We'll treat you to a beautiful breakfast each morning of your stay. Included with your room rate and served at the historic Ringling family dining room table, you'll enjoy sweet and savory classics and modern takes on traditional recipes. We use local and organic ingredients whenever possible, and we're happy to accommodate dietary restrictions; all we ask is that you let us know in advance! We can't wait to host you in Baraboo at our Wisconsin Bed and Breakfast; book your room today!
---