The Best Bed and Breakfast in Baraboo, WI, for 2023
The Wisconsin Driftless area is one of the most beautiful regions in our county. At the heart of it, there's a small town with a fascinating history dating back to the early 1800s, and our Ringling House Bed and Breakfast in Baraboo, WI, is one of the best places to stay. Our Inn has the perfect blend of historic charm and modern conveniences to make your getaway relaxing and refreshing. The Ringling House is a beautiful example of preservation—the Georgian Revival home offers a look into the past with restored architectural details and antique furnishings.
Each of our beautiful guest rooms makes you like you're a part of the living history of the Ringling family; every room has a backstory and is named after a famed pair who once resided there. This only adds to the romantic air, and couples can fully relax, reconnect, and relish in the quiet and privacy of our bed and breakfast in Baraboo, WI. The pampering continues in the morning with a delicious homemade breakfast served at the Ringling Family's historic dining table. It's the best way to kick off your adventures in Wisconsin! Book your room today.
The Best Bed and Breakfast in Baraboo, WI, for Getaways
As you arrive at our picturesque property, you'll feel as though you've taken a step back in time. The warm yellow and crisp white trim of our Bed and Breakfast in Baraboo, WI, welcomes you and foretells of a cheerful and unforgettable getaway. Inside, you'll find the perfect mix of traditional and modern appointments—be sure to get a good look at the stunning original leaded stained glass windows.
Here are the best reasons to make our bed and breakfast in Baraboo, WI, your next destination:
Unique and Historical Lodging: The Ringling House Bed and Breakfast is one of a kind! Our shared areas are cozy and comfortable for reading a book by the fire, chatting with other guests, and relaxing. Our elegant guest rooms have plush beds, fine linens, and seating areas. The en suite bathrooms have fluffy towels and high-end toiletries. Select rooms have adjoining doors, ideal for couples traveling together!
Welcoming Hospitality: As seasoned Innkeepers, our favorite part of running our bed and breakfast in Baraboo, WI, is our guests! We've met some fantastic people over the years, many of which visit our Inn time and again.
Delicious Breakfasts: Our multi-course morning meals are of the highest quality, and we use local organic ingredients whenever possible. We love to serve creative recipes and always strive to accommodate dietary restrictions to our best ability.
Included Amenities: Aside from the standard amenities that you find at traditional lodging properties, we offer off-street parking, free wi-fi throughout the property, snacks, beverages, and use of common areas.
Location to Local Attractions: Our bed and breakfast in Baraboo, WI, is ideal for outdoor adventures, shopping in the charming downtown, and dining out at the best restaurants, breweries, and wineries. For all the best things to do in Baraboo, head to our blog here.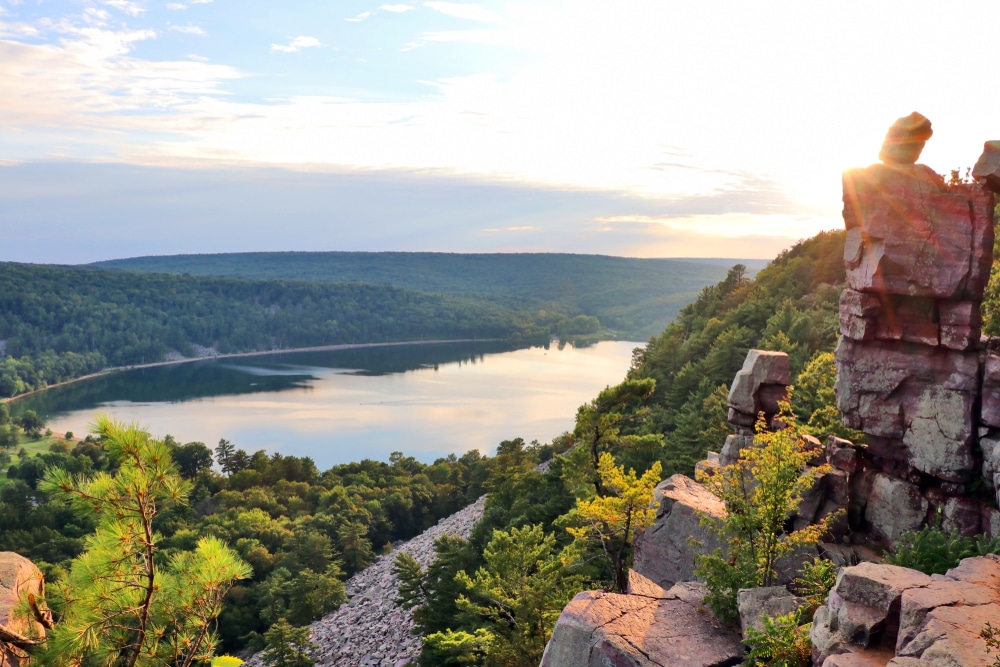 The Best Things to do in Baraboo, WI, this Year
One of the most popular destinations near our bed and breakfast in Baraboo, WI, is Devil's Lake State Park—in fact, it's one of the most visited parks in all of Wisconsin! You'll also find a host of other state parks for outdoor recreation, as well as an extensive selection of shopping, dining, and relaxing in downtown Baraboo.
Hiking Trails near Baraboo: From the huge selection of hiking trails at Devil's Lake State Park to the tranquil waters of Mirror Lake State Park or the quiet forests of Parfrey's Glen, there's no shortage of unique places to get your fair share of fresh air in the Driftless Region.
Wisconsin Wineries for Tastings: Growing grapes in Wisconsin takes skill and dedication, and thankfully, there's an excellent selection of varietals that thrive in our cold winters and hot summers. Add Baraboo Bluff Winery and Balanced Rock Winery.
Best Local Baraboo Breweries: In Wisconsin, it's a known fact that we love beer! And Baraboo is home to a great selection of local breweries for flights, hearty meals, and lively atmospheres. Head to Tumbled Rock Brewery and AL. Ringing Brewing.
World Circus Museum: For the largest selection of circus memorabilia, historical records, and installations, this immersive museum is one of the best things to do in Baraboo.
Check out Driftless Glen Distillery: This local hotspot is known for its grain-to-glass distilling process; while bourbon and rye whiskey are the most popular, they also produce brandy, vodka, and gin. Make reservations at their on-site fine dining restaurant after a tour!
Tour the AL. Ringling Mansion: One of the most popular things to do in Baraboo, WI, is touring the haunted old mansions and attractions. This historic mansion is known for its quirky other-worlding happenings.
Baraboo River Walk: For a lovely stroll near our Bed and Breakfast in Baraboo, head down to the river walk. It's the perfect place to explore the beauty of our charming small town.
Now that you have lots of fun things to add to your itinerary for 2023, join us in Baraboo, WI, this year! We can't wait to host you at the Ringling House Bed and Breakfast. Make your reservation here. 
---